Choose Your ACEC Journey
Becoming an ACEC member is just the start of a journey propelling you through every professional career stage. 
Once a member, you will have access to a wide array of online and in-person courses, webinars, professional development opportunities, and ways to connect with your industry peers.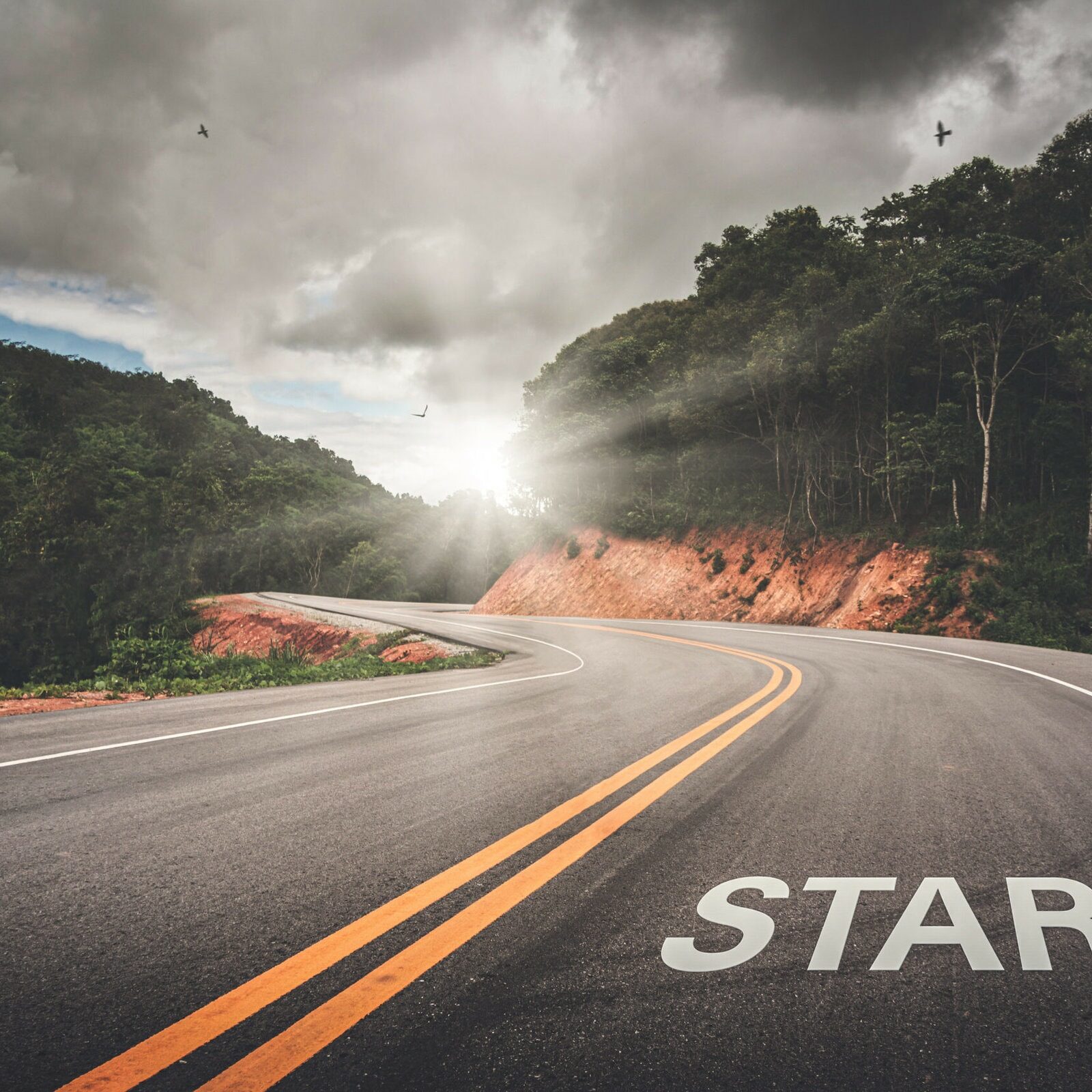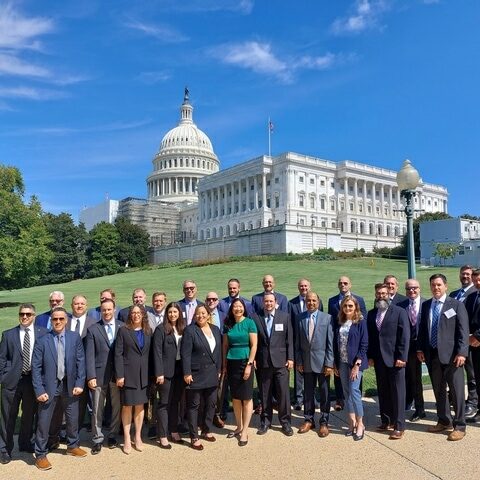 Become an Engineering Advocate
ACEC's primary mission is to advocate for the business interests of the engineering design services industry before federal and state legislative and regulatory bodies. As an ACEC member, you can add to our grassroots network, advocating for the laws and policies that matter to your business.
As an ACEC member, you can be part of the political process through ACEC/PAC, the largest political action committee in the design industry. The objective of ACEC/PAC is to support candidates for elected office from all major political parties who support policies that allow our industry to thrive.
Professional Development Opportunities
Virtual and In-Person Programs
ACEC is committed to developing the next generation of firm leaders and our program offerings are designed to strengthen every step of an employee's professional journey.  We offer in-person and virtual programs on a variety of topics throughout the year. Some of our most popular professional development programs include:
Between 2021 and 2022, ACEC offered
+
On-demand Classes for member firm employees
Pathways to Executive Leadership graduates
Get Involved with Forums, Committees and Coalitions
ACEC Forums give employees with similar functional responsibilities (CFO, IT, etc.) the opportunity to network with their peers. Each forum has an active listserv and an agenda of events during the year, including workshops, roundtable discussions, educational and networking programs. Learn more about ACEC Forums here. 
ACEC's Committees undertake a wide range of activities, including recommending legislation and regulations to promote and protect the engineering industry; providing essential information on engineering business issues; reviewing and recommending business products and services that benefit member firms; and overseeing the performance of ACEC programs.
The majority of ACEC's committees are "open," but several are "appointed." Open committees are generally market-related, and any employee of a firm in any category of National ACEC membership may join at any time of year. Click here for more information.
Committee Spotlight
The Diversity, Equity, Inclusion and Belonging Committee is open to all ACEC members. Its purpose is to ensure that ACEC is a welcoming organization where all members are included, involved, and can pursue key roles in the work of the Council. Learn more about the DEI&B Committee here and ACEC's commitment to diversity and inclusion here.

ACEC national members are eligible to join specialty groups known as Coalitions. These are dedicated communities primarily organized by practice area, with two focused specifically on firm size (large and small). The coalitions provide a range of practical, day-to-day resources to enhance the operation of your business and make it more profitable by sharing knowledge and best practices with peers in your area of specialization. ACEC offers seven Coalitions to choose from. Click here to learn more.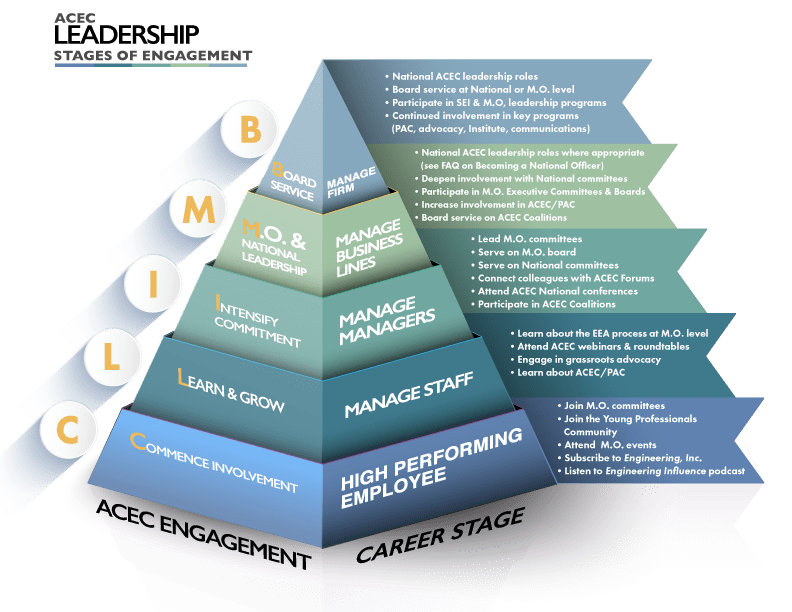 Becoming a Leader Within ACEC
In addition to the professional growth of our member firm employees, ACEC is equally committed to developing the Council's volunteer leadership. The pathway to leadership in ACEC can be described by the acronym CLIMB: 
Commence Involvement

Learn & Grow

Intensify Commitment 

MO & National Leadership, and 

Board Service
The first step in getting involved with ACEC is often to start at the local level.  The 51 state and metropolitan Member Organizations, or MOs, are the foundation of our federation.  Getting involved with your local MO unlocks several benefits including access to communities, the ability to attend local events, and join MO-based committees. Learn more about how to access your MO here.
Take Advantage of Member Only Benefits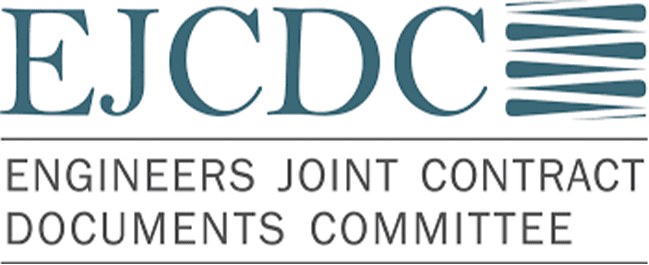 Since 1975, the Engineers Joint Contract Documents Committee (EJCDC®) has developed and updated fair and objective standard documents that represent the latest and best thinking in contractual relations between all parties involved in engineering design and construction projects. 
The EJCDC is a coalition of stakeholders in the project delivery process who develop and endorse quality contract documents. EJCDC is a joint venture of three major organizations of professional engineers including ACEC.  As an ACEC member, you have access to the entire library of EJCDC contracts at a reduced price.
Peer Benchmarking Analysis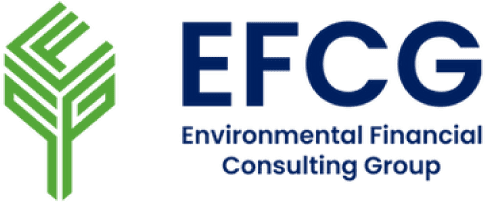 ACEC and the Environmental Financial Consulting Group (EFCG) are offering member firms a financial benchmarking program that enables members to access industry trends and important benchmarking metrics to see how their firm measures up against its peers.
Participating firms will receive access to critical business indicators and corresponding business analysis, including overall demographics, and prior-year growth, and prior-year profit by company size. Learn more.