September 22, 2022
Quarterly A/E Revenues Reach $110 Billion in Q2 2022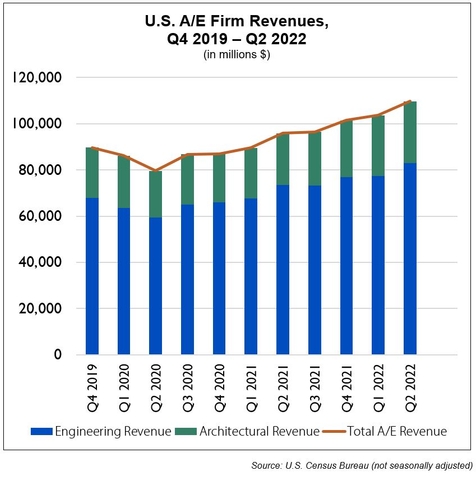 Total A/E revenues reached a new all-time high in Q2 2022 at nearly $110 billion, as reported by the U.S. Census Bureau on September 8, 2022. If you follow our regular updates, you may recall that A/E revenues just reached an all-time high of $104 billion in Q1 2022. This is the 8th straight quarter of consecutive growth after dipping in Q2 2020 due to the pandemic induced recession. Engineering services led the A/E firm revenue growth with a 7.3% increase from Q1 to Q2 2022 and architecture services increased by 1.3% from Q1 to Q2 2022.
While this would indicate good news, The National Association for Business Economics (NABE) released its' Economic Policy Survey in August 2022 still noting inflation and recession as top concerns for the NABE panel. According to NABE Policy Survey Chair Juhi Dhawan, "Overall, panelists are not confident that the Federal Reserve will be able to bring inflation down to its 2% goal within the next two years without triggering a recession. In addition, roughly one-fifth of panelists believes the U.S. is already in a recession, while nearly half the panelists—47%—expects a recession to begin by the end of 2022 or the first quarter of 2023." Some economists and industry experts have noted that we have in fact hit the bottom of our economic dip, but the question remains, for how long. The National Bureau of Economic Research (NBER) determines when the U.S. is in a recession.
Other important data points to track are:
The Consumer Price Index (CPI) for All Urban Consumers increased by 0.1% in August on a seasonally adjusted basis and rose 8.3% over the last 12 months after being unchanged in July meanwhile airline fares, communication, and used cars and truck indexes declined. Shelter, up 6.2% and food, up .8% increased while the gasoline index fell by -10.6% in August.
Employment is projected to increase by 8.3 million jobs from 2021 to 2031 and real average hourly earnings for all employees to increase 0.2% in August, according to the U.S. Bureau of Labor Statistics.
Globally geopolitical tensions brought on by the Russian invasion of Ukraine is and will continue to cause an energy crisis in Europe. The International Monetary Fund (IMF) recently reported out on "second-round effects," which by definition means the spillover effects caused by the responses of individual banks to an external original shock, which – in aggregate – generally amplify such an original shock, thereby causing an additional negative feedback effect. As we head into fall and winter months, the fear is that energy demand could soar, inflation continue and worsen, and the result would be an oil price shock. Then wages could be triggered to increase by more than usual creating a wage-price spiral. Thus, a "second-round effect."
This information tells us that the data trends are mixed. The U.S. economy is showing signs of slowing overall with two consecutive quarters of negative GDP. The Federal Reserve announced yesterday another interest rate hike of 75 basis points. Many economists fear the most recent hike may flatten economic growth.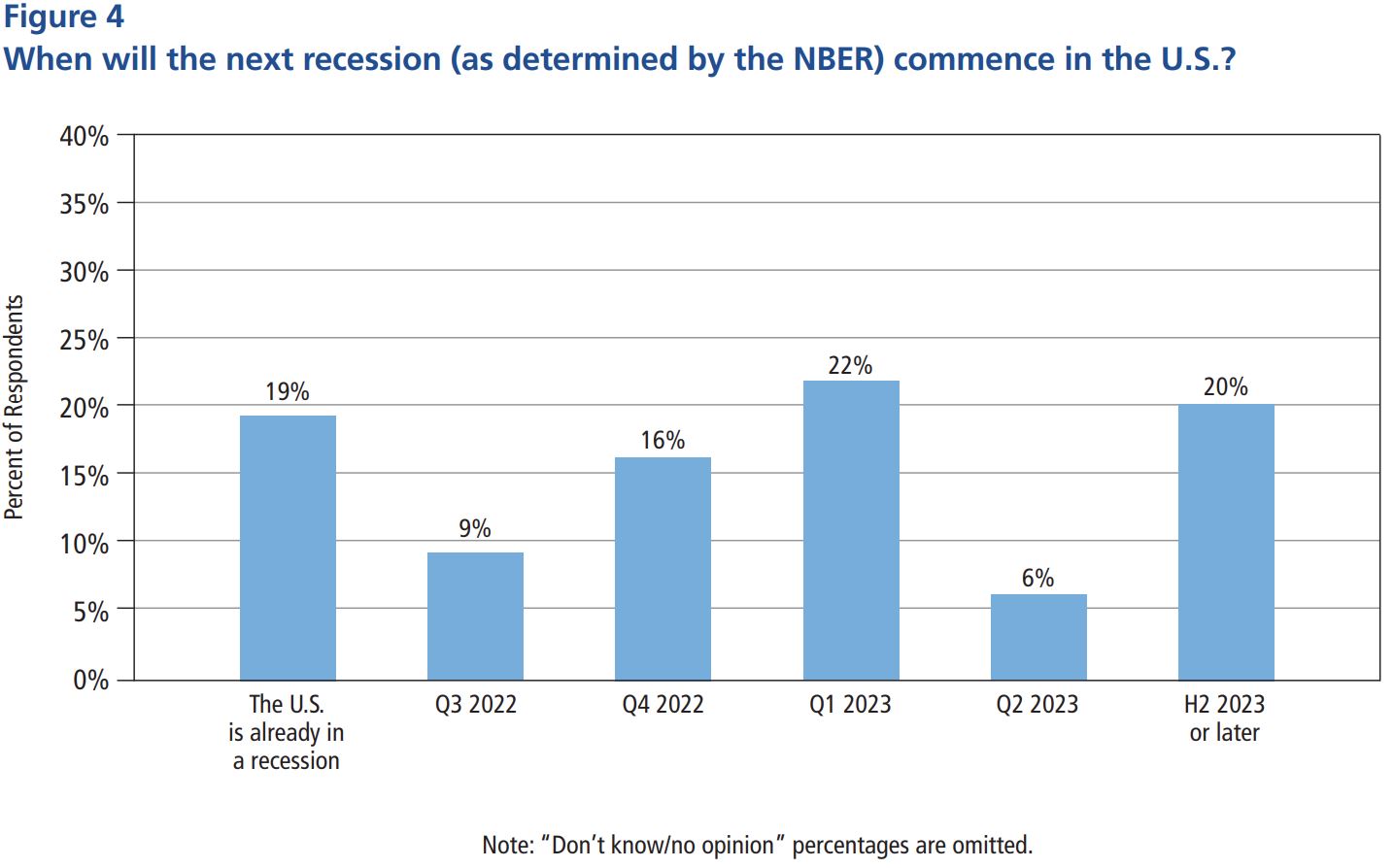 All comments to blog posts will be moderated by ACEC staff.
'Subscribe' enables commenters to sign up for e-mail notification of subsequent entries
Connect with us

To view back issues of the Last Word newsletter, click here.