Advocacy
January 6, 2023
$144 Million in Federal Funding Awarded to the City of Chicago to Rehabilitate the Illinois International Port Calumet River Bridges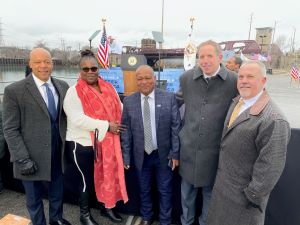 While perhaps being best known as the bridge that the Blues Brothers jumped their car over, the 95th Street bridge in Chicago serves as a key international gateway for commerce—and it was in desperate need of repair.
This week, Vice President Kamala Harris visited Chicago, along with Senator Dick Durbin to join with Chicago Mayor Lori Lightfoot, Gary Mayor Jerome Prince, and Cook County Board President Toni Preckwinkle to announce $144 million in federal funding awarded to the City of Chicago to rehabilitate the Illinois International Port Calumet River Bridges. The grant was awarded through the U.S. Department of Transportation's new Bridge Investment Program, which was created by President Biden's Bipartisan Infrastructure Law and will fund the major rehabilitation of four bascule bridges over the Calumet River that are vital to the local community, region, and nation.
This funding will support the rehabilitation of four historic bridges: the 92nd Street/Ewing Avenue Bridge, 95th Street Bridge, 100th Street Bridge, and 106th Street Bridge. These bridges are critical components of the Illinois International Port, which is an international hub, and the Illinois Waterway, allowing freight access via the waterways between Lake Michigan and the Gulf of Mexico. The bridges also function as an interconnected network, providing access to crucial industries and local jobs, and economic stability in the underserved South Chicago and Calumet areas.
Each bridge lifts an average of 5,000 times per year, providing continuous and safe access for marine traffic to and from the Port and surrounding industrial uses. Their rehabilitation is critical to maintaining the industrial road and water traffic supporting our nation's economy. The bridges carry a combined average of over 40,000 vehicles per day, 3,000 of which are trucks. Freight access along the Illinois Waterway also provides a vital connection to the Port and local industries, supporting economic strength.
As part of the bridge rehabilitation, pedestrian and bicycle infrastructure will also be upgraded to improve multimodal safety and connectivity. Sidewalk network improvements are planned, including the installation of nearly 3,000 feet of new sidewalk to close gaps on each side of the 100th Street bridge. Additionally, bike lanes will be installed across all of the bridges.
ACEC Illinois was proud to support this project along with the entirety of the Bipartisan Infrastructure Law. The global impact of our local infrastructure cannot be overstated--these bridges serve as a key economic engine for the region while helping feed the world at global level.

All comments to blog posts will be moderated by ACEC staff.
'Subscribe' enables commenters to sign up for e-mail notification of subsequent entries
Connect with us

To view back issues of the Last Word newsletter, click here.