June 24, 2022
ACEC Holds Leadership Orientation in its New Office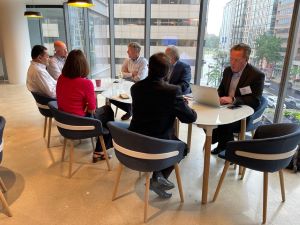 On Thursday, June 23, ACEC held its annual Leadership Orientation for MO staff and volunteer leadership for the first time in its new office.
The group was welcomed by ACEC Chair Art Barrett and ACEC National President and CEO Linda Bauer Darr.
During the leadership orientation, staff and MO executives saw presentations from ACEC National's departmental staff and leaders and then broke down into smaller working groups to answer questions and share ideas and best practices on topics ranging from membership and communications to advocacy and finance.

All comments to blog posts will be moderated by ACEC staff.
'Subscribe' enables commenters to sign up for e-mail notification of subsequent entries
Connect with us

To view back issues of the Last Word newsletter, click here.