ACEC News / Engineering
November 5, 2019
ACEC's Simpler, Kothari Promote U.S. Engineering Industry at Asian Summit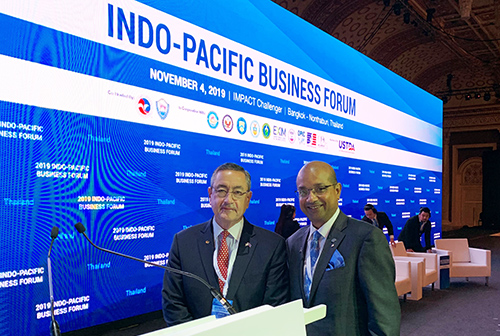 On their trade mission with Commerce Secretary Wilbur Ross to Southeast Asia, ACEC Chair Mitch Simpler and former Chair Manish Kothari took part yesterday in the annual Indo-Pacific Business Forum in Bangkok, Thailand.
The event brought together senior leaders from the U.S. government and business to discuss how government tools and policies can facilitate private sector partnerships in the Indo-Pacific region.
Simpler and Kothari also met with U.S. ambassadors from throughout Southeast Asia and the Pacific region as well as senior officials in the Thai government.

All comments to blog posts will be moderated by ACEC staff.
'Subscribe' enables commenters to sign up for e-mail notification of subsequent entries
Connect with us

To view back issues of the Last Word newsletter, click here.