ACEC News / Advocacy
May 10, 2019
ACEC/Tennessee Surpasses ACEC/PAC Fundraising Goal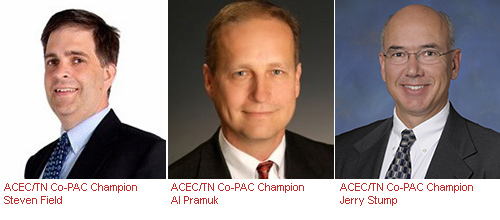 For the 16th consecutive year, ACEC/Tennessee reached its annual ACEC/PAC fundraising goal before the ACEC Annual Convention and Legislative Summit.
Led by a trio of PAC Champions, Steve Field of Stantec, Al Pramuk of Gresham Smith, and Jerry Stump of Volkert, ACEC/TN relies on member-to-member solicitations to reach its goal each year.
"Our three PAC Champions have been tremendous in reaching out to the members," said ACEC/TN Executive Director Kasey Anderson. "And our members are receptive because they recognize the importance of ACEC/PAC to their firms."
For more information about ACEC/PAC and ACEC's political programs visit the ACEC/PAC website or contact ACEC Director of Political Affairs Jennifer Pugh.

All comments to blog posts will be moderated by ACEC staff.
'Subscribe' enables commenters to sign up for e-mail notification of subsequent entries
Connect with us

To view back issues of the Last Word newsletter, click here.