ACEC News / Advocacy
February 14, 2020
ACEC to Stream Infrastructure Forum on Sunday, February 16, on ACEC Website. Be Sure to Tune In!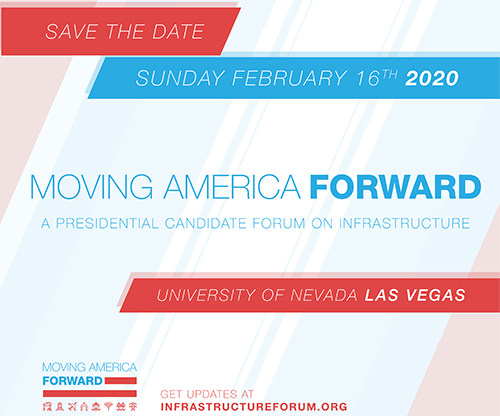 As a member of the host committee for the Moving America Forward: A Presidential Candidate Forum on Infrastructure, Jobs, and Building a Better America, ACEC will stream the broadcast on our homepage starting at 5:00 ET on Sunday, February 16.
Vice President Joe Biden, Senator Amy Klobuchar, Mayor Pete Buttigieg, and Tom Steyer have confirmed their participation in the forum, which will be held at the University of Las Vegas.
Jerry Seib and Jeanne Cummings of The Wall Street Journal will moderate the forum, which will be live broadcast on C-SPAN and livestreamed on CSPAN.org.
The forum will be an opportunity for candidates to address the challenges facing American's roads and transit systems, bridges and railroads, ports and airports, and water and wastewater systems--and to lay out their vision for an infrastructure plan that supports a strong economy, job creation, consumer safety and national security.
Tune in to the ACEC homepage at 5:00 (Eastern Time) to watch the forum.

All comments to blog posts will be moderated by ACEC staff.
'Subscribe' enables commenters to sign up for e-mail notification of subsequent entries
Connect with us

To view back issues of the Last Word newsletter, click here.