ACEC News / Awards
December 6, 2019
EEA Entry Deadline is January 3, 2020! Don't Delay!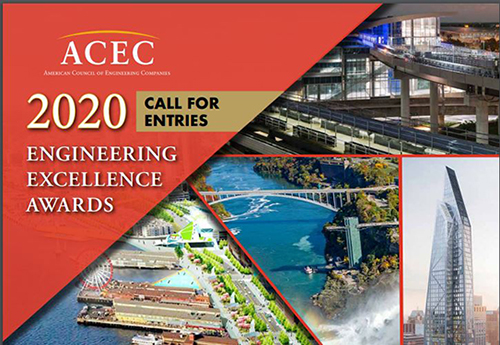 The entry deadline for the national Engineering Excellence Awards is four weeks away. Click here to download the 2020 EEA Call for Entries brochure, which includes the list of project categories, entry rules and criteria, and a sample entry form.
All entries to the national EEA competition must be submitted online. Eligible firms can get the EEA online link and passcode from their State Organization.
Entry deadline for the national 2020 EEA competition is January 3, 2020.
Click here to access the EEA Online Submittal Portal.
For more information, contact Daisy Nappier at 202-347-7474 or eeaawards@acec.org.

All comments to blog posts will be moderated by ACEC staff.
'Subscribe' enables commenters to sign up for e-mail notification of subsequent entries
Connect with us

To view back issues of the Last Word newsletter, click here.