Industry News
August 19, 2019
Engineering Inc. Magazine Interviews USAID Administrator Mark Green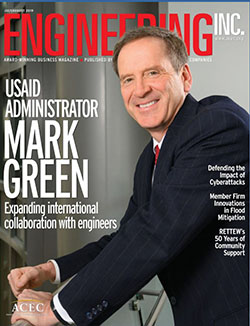 In the latest issue of Engineering Inc. (July/August 2019), Mark Green, administrator of the U.S. Agency for International Development (USAID), shares his vision for the agency, his goal to increase collaboration with the private sector, and how that will open new markets for engineers.
"We anticipate that U.S. engineering and construction firms will plan an increasingly important role in the planning and preparation of infrastructure investment opportunities that will leverage commercial financing to further sectoral development goals and advance self-reliance," said Green. "As the world becomes increasingly urbanize, we will also rely on U.S. engineering firms to help us navigate the complexity of the design and construction of urban infrastructure systems."
Click here to read the interview, as well as articles on protecting your firm against cyberattacks and prospects for the battery storage market.

All comments to blog posts will be moderated by ACEC staff.
'Subscribe' enables commenters to sign up for e-mail notification of subsequent entries
Connect with us

To view back issues of the Last Word newsletter, click here.