ACEC News
October 17, 2019
Engineering Influence Podcast Highlights Reasons for Private Sector Firms to Join ACEC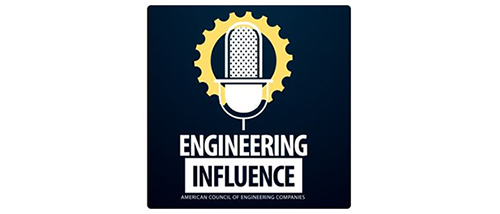 Eric Peterson, CEO of Peterson Structural Engineers in Portland, Ore. joined the Engineering Influence podcast at the ACEC Fall Conference in Chicago to talk about the benefits that firms working in the private-client markets can gain by joining ACEC.
"For instance, contracts in the private sector tend to be awful," said Peterson, who is the ACEC/Oregon National Director. "ACEC has done so much in the public sector to put more fairness and more parity into contracts. If we could make private-client contracts more fair, that would be huge for the firms working in that market."
Peterson also talked about how ACEC's work with QBS in the public sphere could rub off on private markets and shift the focus a little from low-bid to quality of service.
Click here to hear Peterson's thoughts on private market firms and ACEC

All comments to blog posts will be moderated by ACEC staff.
'Subscribe' enables commenters to sign up for e-mail notification of subsequent entries
Connect with us

To view back issues of the Last Word newsletter, click here.