ACEC News
March 29, 2022
New ACEC Book Explores Climate Change and the Built Environment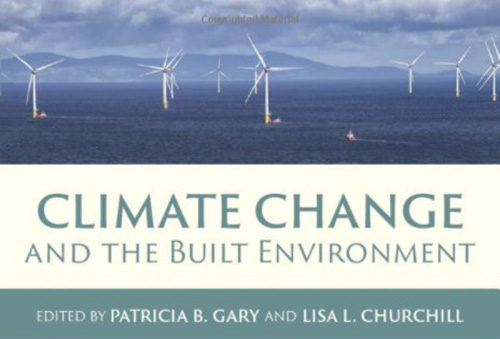 ACEC has just published Climate Change and the Built Environment. Edited by Patricia Gary and Lisa Churchill, and authored entirely by women experts across the Design Services Industry, this book is a resource for design professionals, owners, lawyers, contractors, and construction industry stakeholders—or anyone seeking to understand the complex problem of climate change and the built environment.
There is scientific consensus that greenhouse gas emissions are causing climate change, yet the question of what to do about it is still debated. The goal of the book is to both inform and inspire. The authors provide practical guidance, and vital industry information and expertise, including design strategies for mitigation and adaptation, new project approaches, contracting practices, and legal and insurance insights.
The book lays out a path forward to address climate change through best practices. Both the Design Services and Construction industries have roles to play in moving to a low-carbon pathway, and building climate resilience into the built environment.
Topics include:
Historical Overview of Climate Change
Responding to Climate Change through Mitigation and Adaptation
Climate Change and Its Relevance to the Design Professional
Climate Change and Insurance: Evolving Trends
Climate Change Lawsuits: Trends and Analysis of Legal Actions
The Role of Government and Regulation in Climate Change Adaptation
Contracting Practices and Risk Management
Approaches to Resilient Infrastructure Planning and Design
The Next Evolution of Building, from Green and Smart to Resilient
Climate Adaptive Stormwater Management
Looking Ahead: Designing a Resilient Future
The book also includes in-depth case studies of five climate-resilient projects.
Click here to order Climate Change and the Built Environment.
All proceeds from the sales of this book will go toward ACEC's scholarships and educational programs.
Editors:
Patricia Gary: pgary@donovanhatem.com
Lisa Churchill: lisa@climateadvisoryllc.com
Authors:
Rachel Bannon-Godfrey: rachel.bannon-godfrey@stantec.com
Luce Bassetti: Luce.Bassetti@jacobs.com
Nicole Boothman-Shepard: nicole.boothman-shepard@aecom.com
Elizabeth Bradford: Elizabeth.Bradford@mbakerintl.com
Julie Eaton Ernst: eatonj@wseinc.com
Raine Gardner: rgardner@msa-ps.com
Abbie Goodman: agoodman@engineers.org
Karin Holland: karinsholland@gmail.com
Amy Hwang: hwang@silman.com
Stephanie Kruel: skruel@VHB.com
Amanda Ludlow: amanda.ludlow@stantec.com
Kelly Maiorana: kmaiorana@mullereng.com
Elena Mihaly: emihaly@clf.org
Deanna Moran: dmoran@clf.org
Nancy Rigassio: Nancy.Rigassio@axaxl.com
April Schneider: April.Schneider@stantec.com
Amy Seek: Amy.Seek@stantec.com

All comments to blog posts will be moderated by ACEC staff.