New York's Moynihan Train Hall Renovation Project
Named Year's Most Outstanding Engineering Achievement
Severud Associates Innovative Structural Design Propels Wins in Showcase of the World's Best Engineering Efforts
More than five decades after demolition of the original Penn Station and almost 30 years after conception of a plan to augment it, the new Moynihan Train Hall now provides visitors with a breathtaking entrance and dignified sense of arrival to New York City.
More than 500 ACEC members and guests attended the 2022 black-tie Engineering Excellence Awards Gala" hosted by Emmy-award winning comedian Ross Shafer. The Gala was held May 24th in Washington D.C. as part of the 2022 ACEC Annual Convention.
With innovative structural design by Severud Associates, the 255,000-square-foot hall expands Penn Station across Eighth Avenue and into the landmarked James A. Farley building, the former main city Post Office.
The project features a 30,000-square-foot main boarding concourse, formerly the mail sorting room, and a 92-foot-high roof featuring dramatically arched skylights supported by original but previously hidden and innovatively reinforced latticed steel trusses.
Other Moynihan Train Hall enhancements include multiple new station entrances, an expanded West End Concourse, the intermodal Midblock Hall. It restores a grand entrance to New York City, greatly improves access and interconnectivity, and provides many amenities to improve visitors' experience.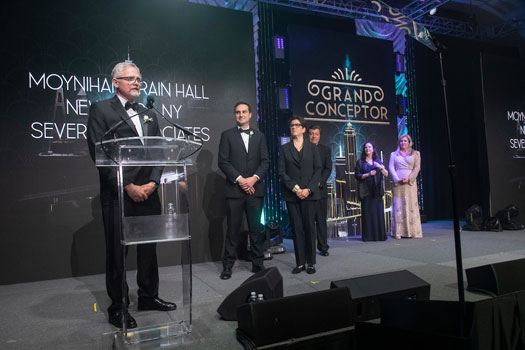 Brian Falconer addresses the Gala Crowd as his Severud collegeaus, Gala Host Ross Shafer and ACEC President/CEO and Chair Emeritus Robin Greenleaf watch.
For All 2022 EEA Winners Click Here.
Additional Award(s) Order
Please click here to purchase a duplicate of your Engineering Excellence Grand, Honor or National Recognition award. The link will direct you to the ordering website. Please reach out to Carlotta Padgett at (812) 542-6539 if you have any questions.
Order EEA Gala Photo(s)
Please click here to view EEA Gala Photos. Please reach out to Cable Risdon at (703) 256-4724 if you have any questions.
Red Carpet Video
Click here to view EEA Red Carpet Video. Please reach out to Jeff Urbanchuk if you should have any questions.
EEA Committee Chair Jeff Druckman Highlights
Awards' Program Value to Industry

EEA Committee
Committee Roster
EEA Committee Purpose and Goals
EEA Judges
EEA Judges
Judges' Resource Manual
EEA Resources
Submissions
All submissions must be entered through your respective state Member Organization. Click here for EEA submission deadline for each state (Excel spreadsheet).
Questions?
If you have any questions, please contact Theresia Christanti, 202-682-4312.
Past Grand Conceptor Award Winners