ENGINEERING EXCELLENCE AWARDS
TV Star Kevin Nealon Returns to Emcee Engineering Excellence Awards Gala in Washington D.C., April 17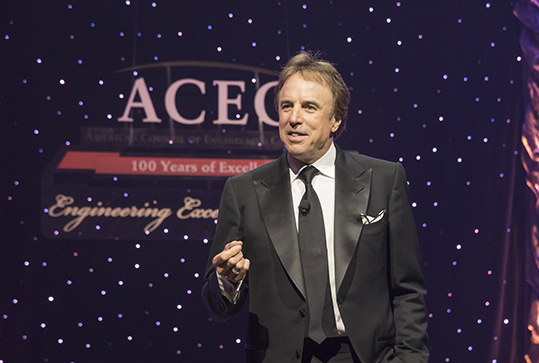 Actor/Comedian Kevin Nealon will once again emcee the Engineering Excellence Awards (EEA) Gala at the 2018 ACEC Convention in Washington D.C. on April 17

Nealon is well-known for his long-time tenure on Saturday Night Live and his performances in several Adam Sandler movies and the HBO series Weeds. He currently stars in the CBS weekly comedy show Man With a Plan.

The black-tie Gala will be followed by an After Party, featuring live music and dancing, which is free to all Gala registrants.

Since 1967, U.S. engineering firms have entered their most innovative projects and studies in ACEC's EEA program—"the Academy Awards of the engineering industry"—which honors the year's most outstanding engineering accomplishments. Projects that are winners at state level EEA competitions are eligible for ACEC's national EEA competition.

Each year a distinguished panel of 25-30 judges, representing a cross section of industry, government, academia and media, assemble for three days to rank submissions on engineering excellence. The panel in 2018 will select 36 top award winners—20 Honor Awards and 16 Grand Awards—with one Grand Conceptor Award winner chosen from the 16 Grand Awards as the year's most outstanding engineering achievement.

For more information about the EEA Gala and to register, click here.

Still have questions about EEA? Contact Daisy Nappier.
2017 Grand Conceptor Award Winner with Video
Past Grand Conceptor Award Winners
2017 Top Winners and 2017 National Recognition Award Winners by State
Gala Photos
Purchase Grand and Honor Formal Photos
Purchase Formal National Recognition Photos
Order Additional Awards
EEA Committee
EEA Judges
Resources for Judges
* This PDF file is 214 MB and may take some time to download.
EDUCATION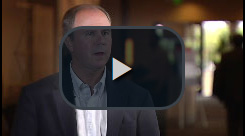 Click the video above to learn why ACEC Business Education will help your firm thrive.
ONLINE CLASS
The BackPocket! Business Plan - Outrageously Simple Business Planning for Extraordinary Business Results
April 10, 2018
1:30-3:00 pm (ET)
Register Today >
ONLINE CLASS
10 Keys to Increasing Utilization in Your A&E Firm
April 11, 2018
1:30-3:00 pm (ET)
Register Today >
NEW RESOURCE
Public-Private Partnerships and Design-Build: Opportunities and Risks for Consulting Engineers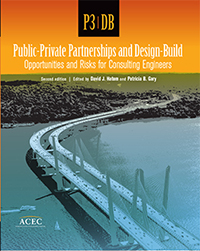 Public-Private Partnerships and Design-Build: Opportunities and Risks for Consulting Engineers provides new industry information and experience on P3 and Design-Build approaches, and offers timely recommendations about the rewards, challenges, and risk exposures for engineering firms looking to succeed in today's still evolving project work environment.Details
2017 Bundle of Salary Surveys of Engineering Firms (ZweigWhite)
The 2017 Engineering Firm Salary Surveys are the most up-to-date and comprehensive compensation survey reports for engineering firms operating in each region of the U.S. Details
TRUSTS
ACEC's Trust Programs are designed to enhance your membership investment by helping to control your firm's costs. More Info